Prophet of Love




Prophet of Love is a handsome and very tall, leggy young colt with all options open as a sport horse. His movement is marked by balance and rhythm along with modern mechanics and excellent ground cover. Prophet is very people-oriented, friendly and well handled. At his first in hand show in March, he was focused, obedient and very impressive when it counted. He was named Colts/Geldings of 2012 Champion at the Deep South Dressage Combined Training Association Spring Classic I with an overall score of 78.6%. "R" judge Debbie Riehl Rodriguez was especially complimentary about his overall quality. In 2013, Prophet won the ATA's HOY (breeding in hand), and began the 2014 in hand season with a great score at the Ocala FEH event in April, scoring 79% and winning his class. Prophet is expected to finish in the 16.3-17h range and is a first rate prospect for eventing and dressage.
UPDATE: Prophet won the Ocala Future Event Horse class at the International Horse Trials in April 2014 with 79%!
E.H. Consul by

Swazi xx

- Lothar

E.St. Ovation by Magnet - Gunnar

Avignon II by Flaneur -

Apollonius xx

The Princess Condé by Ricardo - Prince Condé

Graditz by Rondo - Traumulus

Pillau by

Pasteur xx

- Marengo

Medaille d'Or xx by Secretariat xx - Northern Dancer xx

Sunny Ruler xx by Sir Ruler xx - Requested xx

TB-11 Family (Sedbury Royal Mare)

DOB: April 2012. Located in Florida, USA

Price category: 10-15,000 USD (negotiable)
VIDEO -------- PHOTOS



About the sire:
Tatendrang *Pb* is an American bred, born, approved and performance tested Trakehner stallion who successfully competes at intermediate level eventing in the US and has won the CIC* level. He is a full brother to the ATA approved stallion Tycoon (now gelded), who also evented as a younger stallion and is now an accomplished Hunter/Jumper. A third full brother to the pair, Tenorio, also evented successfully at preliminary level. In 2013, Tatendrang won the ATA's Cäsar memorial Cup for the most successful Trakehner stallion in eventing in North America. He also received his Performance Bronze name tag for his success in competition.
Grand sire Onassis *E* was fully approved and tested in Germany and exported to the US after only a year of stud service in Germany. He has very few, but highly regarded daughters in the Trakehner breed in Europe, among them Premium Mare Indica, the maternal grand dam of the champion stallion, In Flagranti (multiple S level dressage winner, now standing in Canada), his approved full brother, In Petto (sire of the Bundeschampionat-qualified dressage stallion Shapiro), and the champion mares, SPS+PS In Zukunft (4th level dressage, now in California), SPS+PS In Vita (S level dressage in Europe), and SPS+PS In Farbe. Onassis is also the dam sire of the CCI*** eventer, Seacookie TSF, who was the 2010 and 2013 Trakehner Verband Sporthorse of the Year and placed 2nd at one of the world's most prestigious horse trials in Burghley with William Fox-Pitt. Onassis' dam, E.St. Ovation, was a foundation mare for the breed and also produced the full sister, Oda II, who in turn is the maternal grand dam of premium stallion Okavango (PSG dressage in Denmark), and premium stallion Oliver Twist, who is the sire of several approved sons now, among them the 2007 Neumünster champion stallion Grand Passion (now gelded, French Natoinal dressage champion). Also from this smaller family comes the approved CCI*** eventer Oktavio (Germany).

Dam sire Avignon II was a full brother to the breed's outstanding major sire E.H. Arogno and helped to shape the young Trakehner breed in North America especially through his high quality daughters. The stallion line founded by his sire, Flaneur, is one of the strongest and internationally most recognized lines with significant influence also in other warmblood breeds and a special emphasis on carrying talent for dressage and high natural rideability.
The dam line of Tanzania *E* goes back to the original Main Stud Trakehnen mare Tapete (by Pythagoras), whose family is one of the most successful in the breed today and has branched out into two major lines in Germany: the Tip-Top – Tilsit III family at Gestüt Panker, which stands for the stallions E.H. Tambour (sire of NMS champion Herzensdieb and the Bundeschampion of the German Event Horse, approved Herzog TSF), Thalys (S level dressage in Germany), E.H. Tenor (stamping sire of the breed in the 1980s and 90s), Travell, E.H. Tivano and E.H. Tuareg and the Traviata – Tracht line at Gestüt Birkhausen that produced predominantly excellent show jumpers and eventers such as Tschad and Trabant.
Tatendrang *Pb*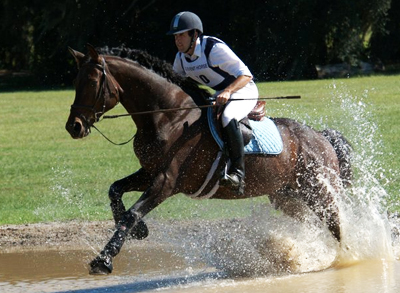 About the dam:
Pennant's Valentine is a career broodmare in the US and has produced offspring with sport careers: Phyra (by Kitfox) is a successful Hunter, Priceless by Kreschendo *Ps* started her career as a future dressage horse just recently, while the younger Pearl Jam and Pajama Party (by Impressionist) are just at the beginning of their under saddle careers. Pearl Jam has qualified in her first year competing for the American Eventinvg Champinships at Beginner Novice level under her amateur owner. The offspring of Pennant's Valentine not only have wonderful overall athleticism - it really stands out that their non-professional owners enjoy their horses every day, and are rewarded with great natural rideability and the will to perform and cooperate.
Pennant was one of many approved Graditz *E* sons in the US, and competed at 3rd level dressage. He has produced horses for all disciplines. Graditz *E* was a foundation stallion for the ATA and was known for his many stallion sons, as well as versatile performance horses up to advanced level in dressage and show jumping. The second sire Rondo was a highly accomplished show jumper under saddle, and also produced a number of excellent performance horses, also in the Hanoverian breed. His most popular son was the chestnut E.H. Friedensfürst, an international Grand Prix dressage horse, yet a dominant show jumper producer as a sire. Also, the Rondo son Arthus was an influential sport horse producer, both in Germany and Denmark. The sire line of Schabernack, which originates at the State Stud in Marbach, has only recently stepped back into the spot light. Graditz' mare family of Gittare traces back to the mare Gitta by Alarich. The line produced severals successful sport horse sire that also competed at advanced levels, e.g. Gershwin and former NMS Champion Glanzlicht. Other important sires from this family include Grimsel, Gelria and Grandezzo.
Dam: Pennant's Valentine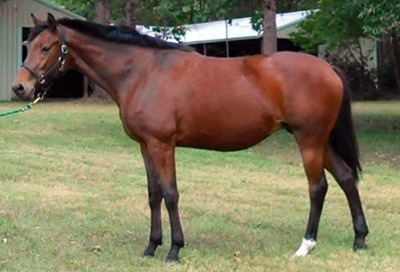 The mare family of Pennant's Valentine is purebred TB and comes from a very interesting background, tracing back to the TB-11 family of Sedbury Royal Mare (not to be confused with TB-13!).
Dam sire Medaille D'Or xx was the 2 year old Canadian Champion in 1978 and was a Stakes winner himself. The dam Fanfreluche xx is an all time great and was a Hall of Fame Inductee in 1981. She was both a Canadian and American Champion Three Year Old Filly, but really rose to fame as the victim of a kidnapping, which she lucky survied - in foal to Secretariat xx! And Secretariat was the sire of Medialle d'Or. Apart from his own astonishing racing career and Triple Crown win, Secretariat xx also made a name for himself in the sport horse world. Among his notable offspring are Seclusive, an upper level eventer in the US and Zangersheide approved jumper, and the international show jumper Quantum Leap.
The falling dam line TB-11 also stands for a number of important race horses and sires, such as the true foundation sire Magnat xx (Germany), also of high importance for warmblood breeding in the 20th century, High Top xx, Nasram xx, the all-time great St. Simon xx, the Triple Crown winner War Admiral xx and the German and European Champion racer and sire Acatenango xx, who had influence in several German warmblood breeds as well. Interestingly, one of the Trakehner breed's most proven and successful international event horse sires, the great E.H. Parforce (by Habicht) was also from the Sedbury Royal family, just like Prophet of Love. This is also the family of the most important, current Angloarabian sire line in the Trakehner breed, the Bouquet AA - Benedict N AA family. Benedict N AA is an international show jumper with success at the Hamburg Derby. Within the Trakehner breed, the Sedbury Royal family founded a very small branch that is now purebred Trakehner, and that brach predominantly produces event horses, such as Metternich (by E.H. Consul - same sire line as Tatendrang).

March 2013 at the Deep South Dressage Combined Training Association Spring Classic I

Fall 2013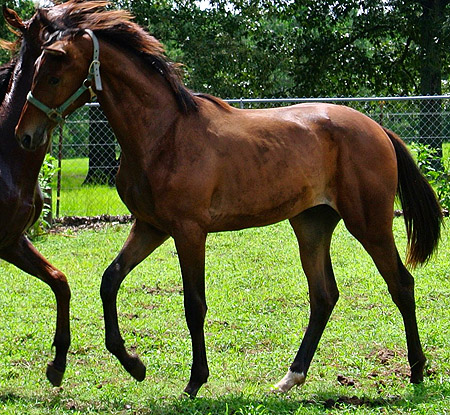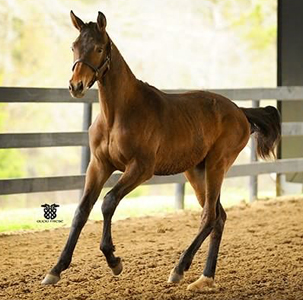 Photos: private and Alicia Frese