News 2014

08.21.2014 - Neumünster Stallion Selection under way!
We have started to track the current stallion prospect selection process in Germany. The Trakehner Verband selection committee is on the road and has already seen a number of promising horses. To follow our comprehensive NMS 2014 coverage, please select the NMS tab from the side bar menu to your left, or follow this link.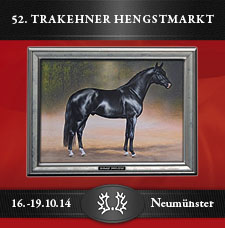 08.15.2014 - Hanover Foal Auction: The best ever!! - RESULTS
Please follow this link here for the complete 2014 foal auction collection and all prices achieved in Hanover.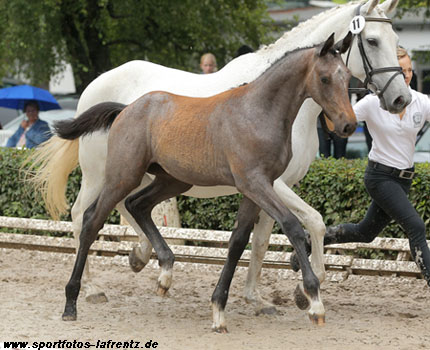 Top seller in 2014: Estella, filly by Guardian, to Austria for 20,000 Euro

08.15.2014 - International Trakehner Bundesturnier 2014 - RESULTS
Please follow this link here to the external page for all results from the 2014 International Trakehner Bundesturnier!!
| | |
| --- | --- |
| Heuberger with Anabel Balkenhol | Hirtentanz with Philipp Hartmann |

07.24.2014 - Hanover Foal Auction: The collection 2014
Please follow the link below for the complete 2014 foal auction collection in Hanover. As usual, this auction of high quality foals takes place during the International Trakehner Bundesturnier, which kicks off today, July 24th, with the event horse classes.


06.27.2014 - Sport Results from May and June
A quick summary of recent worldwide Trakehner performance results for late May and June 2014:
Dressage:
Rikke Svane and the approved Finckenstein TSF (by Latimer - Kennedy) placed 5th at the recent Danish National Dressage Championships - quite the achievement considering the very high standard of Danish dressage riding. The pair took home a 5th place in the Grand Prix (70.5%), the GP Special (71.4%) and the Freestyle (71.8%), maintaining that rank until the end. Congratulations!
Anna Den and her former NMS stallion candidate High Pleasure (by Cadeau - Humanus) won their first S class in Kirchhellen. High Pleasure is only 9yr old and is now in preparation for his first Inter II. Good luck for the rest of the season!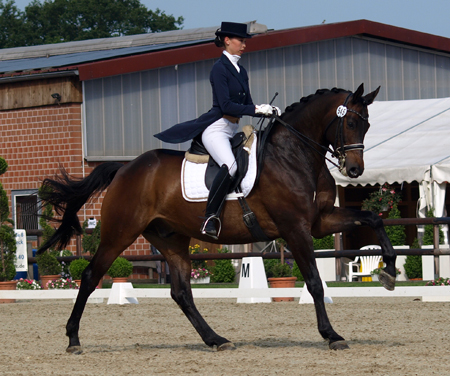 Anna Den and High Pleasure. Photo: Trakehner Verband
More young riders are competing successfully with their Trakehner and part-Trakehner partners. At the Future Champions competition in Hagen/GER, Victoria Vallentin rode her 12yr old Geisha (by Gribaldi) to victory in the CDIO Team competition, and won the individual CDIO Freestyle with 77.33%. At the LVM Masters Dressage competition for Juniors, Ragna Mann placed her 8yr old Trakehner mare Indian Queen (by Ovaro - Glanzlich) on 6th position. Hannah Erbe and Dornfelder (by Caprimond - Ibar xx) also placed 6th in another class at the same show, and 8th place was won by Franziska Vosskötter with Hydra (by Key West - Anduc). Also a young rider, Paula de Boer continues her success story with the 2004 NMS Champion stallion Le Rouge (by Pret a Porter - Tycoon). The pair placed 2nd in the Prix St. Georg Class in Hamburg. 3rd place in this class went to Vera Breidenbach-Laffrenzen and her Titan (by Biotop - Sir Shostakovich xx). She also took 4th place in the Freestyle. Finally, Leonie Klausing rode her home-bred Josephine (by Hohenstein - Marduc) in her first S* class and the pair finished 10th (66.5%). The approved chestnut stallion Birkhof's Meraldik (by Münchhausen - Caramel xx) and Pia Wilhelm have also been looking back at a most successful season so far. They were 3rd in the Prix St. georg class in Heidenheim in June. At the same show, the pair then also won the Inter I. And another approved stallion is teaching a young rider the ropes - Kapriolan F (by Exclusiv - Enrico Caruso), 18yr old, and Anna von Negri placed 3rd in the S** class at the show in Kaarst-Büttgen.
In Europe, selection trials for the upcoming FEI Young Dressage Horse World Championships are in full swing, and Trakehners are very well represented this year. At the German selections in Warendorf, which were hosted over two consecutive days and saw 43 starters, both trakehneres netered have made it into the next round. The approved Placido Domingo (by Dorkas - Hohenstein) with Danish rider Mikael Ketelsen and the 2013 Reserve Bundeschampion Brancusi (by Kaiserdom TSF - Suchard) with Monika Mittermeyer were selected in this very strong field.
In Denmark, two other Trakehners made the final cut. Antje Hell and the approved Edberg (by Connery - Kaiser Wilhelm TSF) were selected in the 6yr old group, along with Litvinenko Sjælstofte (by Imperio - Pidroneur) with Anne Troensegaard in the 5yr old group. More Trakehner blood is represented in a number of German, Durch and Danish finalists. We will publish a comprehensive pedigree analysis when the FEI event takes place in Verden this summer.
The the German Para-Equestrian Champinships, which took place close to Berlin in June, Hannelore Brenner and her Trakehner youngster Kawango (by Sixtus - Kostolany), a full brother to the approved Kasparow, won the Grade III competition. And in Grade 1a/1b, Alina Rosenberg rode her youngster Picachu (by Hibiskus - Vespucci) to a great 2nd place finish. Both horses are 9yrs old and are competing their first season in para-equestrian dressage. Congratulations!!
At the CDI Rotterdam, it was yet another Gribaldi-fest for dressage. In the GP class, Kingsley Siro took 3rd place with Danielle Heijkop in both the regular test and the Freestyle (80.075%). The GP Special was won by Marc Bloblet and his Oldenburg-branded Caprimond/Trak. daughter Noble Dream Concept Sol. In the international GP*** Tour, no less than three Gribaldi offspring (all KWPN) placed in the Top Ten: 5th was Thriller with Katja Gebers (NL), 8th place went to Spain and Morgan Barbacon Mestre with Painted Black, and 9th placed was Uylsses de Haya with Laurens van Lieren (NL). Furthermore, in the Inter I, Danielle Heijkop won with her newcomer Kingsley Badari (also by Gribaldi), and Marlies van Balen placed 5th and 3rd, respectively, with Zindi (by Gribaldi) in the regular test and the freestyle.
Rotterdam also hosted para-equestrian classes, where Rixt van den Horst and Uniek (by Gribaldi) placed 3rd in both the regular test and the freestyle.
The maternal half brother of Placido Domingo, Petit Pompidou (by Latimer), ridden by Karin Lührrs, won two S classes at the show in Hanereau-Hademarschen in Schleswig-Holstein. At the same show, Vera Breidenbach-Laffrenzen and her Titan (by Biotop - Sir Shostakovich xx) placed 2nd in the S* class. And in Fehmarn, Ulrike Hatzl and Florentine (by Solero - Arogno) placed 5th in the S* class.
In the regional riding district of Rheinland-Nassau, the new dressage champion is a Trakehner: Willi Feltes took top honors with his grey Mon Baron TSF (by Münchhausen - Herzruf), a full brother to the approved stallion of the same name. The regional champion is determined after a S*, Prix St Georg and Inter I Fresstyle class.
Show Jumping:
Parmenides (by Sir Chamberlain - Habicht) and Ingrid Klimke are becoming quite the force to reckon with in show jumping. They placed 3rd in an M** class and 4th in an S* class at the big show in Nienbergen.
A new show jumper star is emerging in Germany, the 8yr old Stella Nova (by Long Deal - Upan la Jarthe AA), who began her career as a Bundeschampionat-qualified eventer and is now competing in jumpers. With Marina Borchert-Retta, she placed 10th with a clear round at the big S* class in Framersheim in June. At the same show, the approved Phlox (by Waitaki - Persaldo) and Hans Günther Klein placed 7th in the M** class.
Driving:
At the CAI*** in Dillenburg/Germany, two Trakehners stood out with their performances in the driving classes. Gilberto Gold TSF (by Latimer - Anduc) and Franz Schiltz (LUX) placed 7th in the *** dressage test and 12th in the marathon. Unfortunately they added two mistakes in the obstacle-driving test, but still finished on a good 10th overall place (with over 30 pairs in the competition). They are already set for the WEG in France this summer. In the ** dressag test, Ischtar (by Buddenbrock - Biotop) and Marcel Lehmbruc placed 5th and won the marathon a day later. Their obstacle-driving course resulted in a 4th place, and the overall combination saw them as 3rd - best German team in the competition!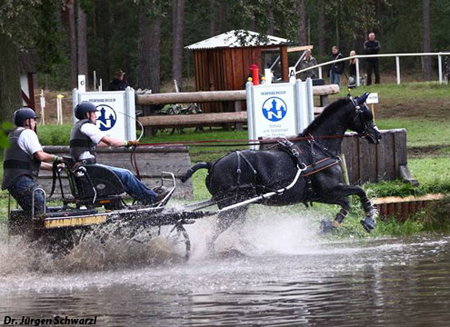 Gilberto Gold TSF. Photo by Dr. Jürgen Schwarzl
Eventing:
The Canadian team selection for the WEG is published, and the Trakehner mare A Little Romance (by A Fine Romane xx - Donaufürst) and Jessica Phoenix, are on it! They just recently won the CCI*** Bromont and obviously caught the eye of the selectors. Good luck to Team Phoenix Eventing in France!
Lady You TSF (by Houston - Solo xx) is back - now renamed as Halcyon Days, the mare placed 9th in a strong field at the CCI* Melbourne with her new rider and woner Alex Townsend.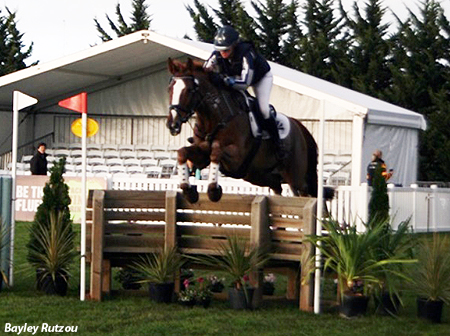 Lady You TSF, now Halcyon Days. Photo: Bayley Rutzou.

06.27.2014 - In Memoriam: Benjamin Winter
This article, written by Maren for TI, was first published by Eventing Nation on June 18th following the tragic death of Ben Winter at the CCI**** Luhmühlen in Germany. We are reprinting it here to honor Ben.
Remembering the Life of Benjamin Winter
Sometimes life's experiences leave us with an utter sense of helplessness, confusion and a deep sadness that just doesn't want to pass. Saturday, June 14, 2014 was such a day that should have been a celebration of our sport, but ended in the most unspeakable tragedy — two young men lost their lives while riding their horses at events in the UK and Germany.
The "why" is an important question; the events that led to these fatal accidents need careful examination, and tough questions about our sport need to be asked. Indeed. But not now. Instead, I want to tell you a bit about Benjamin (Ben) Winter, this 25-year-old rider from Dortmund, Germany, whom I only knew from a distance, but whose life touched mine and many others in the eventing community quite profoundly.
Ben was born into a classic German horse family — everybody rides, his siblings Marius and Laura are both competitive riders, and mom Sybille is a well-known dressage trainer and one I actually remember well; we competed for the same German Riding Club for years, and I watched her teach many times. She was a driving force behind Ben's excellent dressage skills. That much can be said — it was a great joy to watch him work with his horses.
Ben had an uncanny feeling for his equine partners and made everything appear light, fun, easy. That is a memory that especially some of the professional photographers had about him when I asked about their most important impression of Ben. As one pointed out: "He had great fun doing what he did, you could tell. It also translated to his horses; they looked fully at ease with him."
Ben's own riding career began when he was 4 — not unusual for German kids. Ben's first big splash came in 2005 when he won the State Championships in Westfalia, one of the most important "horse states" in Germany (read: lots of competition). Ben took home individual gold in the junior division and automatically qualified for the German National Championships. There, he won individual gold with Wild Thing Z, the horse that took him to all his biggest successes in the saddle, and, incidentally, also the horse that was the first to ever take him around a four-star course in Luhmühlen, the same day that was to be his last on earth.
Wild Thing Z is a 1998 Westfalian gelding with a most unusual pedigree — his dam was a Standardbred by the American stallion Sugarbowl Hanover. Ben once commented that it really took some finesse to get "Wildling" to canter properly … no kidding. But as usual, he took this unusual challenge in a stride and really grew with the task. And Ben never tired of praising Wildling's great personality and his willingness to perform for the great success this pair had, as if it had nothing to do with him as a rider.
By 2009, Ben had earned a bronze and two silver team medals with Wildling at the European Championships of Young Riders and also again took home the individual gold medal at the Nationals. He was awarded the German gold riding medal, one you can only earn, not actively pursue. In 2013, he went to the European Championships as an individual rider, this time with Ispo, and finished 18th. This was also the year of his first appearance at the CHIO Aachen, where he placed 8th in the CICO3* with Revenue, and 2014 began brilliantly with another individual gold at the Westfalian State Championships, this time on board Catch my Thing.
Ben rode many different horses with his signature style — easy, light in contact, always accommodating the horse's personal strength. There is no question that he was the most exciting young German talent in eventing of our time. And while we, the eventing community, may mourn this loss to the sport, I think it's clear that the true void was created by losing Ben as a fellow human being.
With Ben, the horses were not just stepping stones on the way to his ultimate goal — defined by himself as "participating at the 2016 Rio Olympics for the German team to add another chapter of greatness." Lofty? Yes. Impossible? Not for Ben. His biggest character trait was the fact that he dreamed big but remained firmly planted on the ground, and showed a ton of dignity and thankfulness for the position he found himself in.
Ben was as much a great individual as he was a "team" effort — his mom, his trainers Rüdiger Schwarz, Fritz Lutter, and since his official nomination to Germany's A-squad, of course the team trainers, Chris Bartle and Hans Melzer, all stood behind him. Ben was the guy that had this huge smile on his face in almost every photo you will find of him when not on a horse, deep in concentration.
And that really is Ben in a nutshell — his jokes and sense of humor are somewhat legendary. He was the type of person you instantly liked when you met him. Which makes it all the more difficult to accept that somebody so full of life, enthusiasm and love for our sport and the horses could possibly be ripped out of it not only quickly, but violently.
Words of course cannot ever really do any justice to the death of a person. To really get a feeling for what Ben meant to the eventing community in Germany, watch the video of his commemoration ceremony at Luhmühlen. World class riders choking on tears, officials with an utter sense of hopelessness on their faces, spectators holding each other crying. So much was lost that June 14, in Germany and England, and it is almost too much to bear.
Thinking how the pain, sense of loss and complete despair not only grips the Winter family and friends, but to know that it is mirrored in the UK and Canada with Jordan McDonald's family just seems to pointless. I feel that some of the future of eventing will forever be tainted by June 14, 2014.
At the same time, it encourages me enormously to see the outpouring of support and friendship that we experience within the eventing community right now. I want to think it's due to the great personalities that Ben and Jordan so obviously were. They touched many people in ways that had more to do with them than necessarily only their horsemanship — great human beings all around. And I want to believe that especially the eventing community has been blessed with many such people.
Ben's last entry on his Facebook page came just a few hours before his death. It reads, "Wildling ist vom aller feinsten durchs Gelände geflogen! 0HF 0 ZF – clear in time!!!" — meaning "Wildling flew around the cross at his finest! 0 jump fault, 0 time faults — clear in time!!!"
His page has received over 400 comments by now, and it has become a place of last goodbyes, deeply touching to read, a tribute to a young man gone way too soon. Whom the Gods love — Godspeed Ben, you will never be forgotten.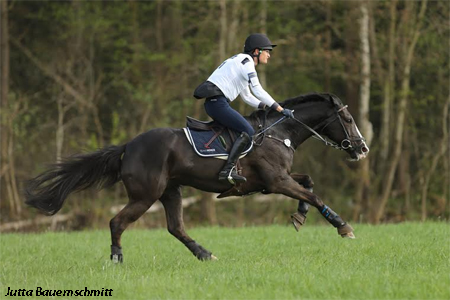 Ben Winter with Ispo. Photo: Jutta Bauernschmitt

04.28.2014 - Sport update from around the world
It's been a while since we updated this news page with sport results, but here is a wrap up of the lastest performance results from around the world, sorted by discipline:
Eventing:
North America:
Rolex is just finished, and we're thrilled to report that once again, a Trakehner broke into the Top 10. William Fox-Pitt and his 2013 CCI**** Pau Champion Seacookie TSF (by Helikon xx - Onassis), placed 9th after a less than ideal dressage, a faultless, but slower round cross country and double clear in stadium. The pair moved up quite a bit after cross country! Interestingly, a number of Trakehner horses qualified for the Rolex event, and 4 initially were on the entry list. Besides Seacookie, this included Allison Springer's grey mare Copycat Chloe (by Stiletto *Pg* - Alezan Dancer xx), who, after a less than ideal dressage, retired on course after one refusal. Also entered was Werner Geven's gelding Vandiver (by Windfall *Pg* - Mystic Replica xx). The pair was unable to attend due to a fracture that Werner Geven sustained after a fall. Finally, entered was also Johnathan Holling's superstar Downtown Harrison (by Il Sixtino, na - Silver Buck xx). Very sadly, the horse sustained a career-ending injury after an excellent early spring season in Florida.
Rolex 2013: Seacookie TSF and William Fox-Pitt
The next Trakehner to tackle a world class course is Germany's TSF Karascada M (by Heraldik xx - Anduc) with Kai-Steffen Meier, who is running Badminton once again.
A bunch of Trakehners, several approved stallions among them, have had a most stellar Spring season in Florida. Unsurpassed is the record of Halimey (by Askar AA - Pardon go) with Michael Pollard, who won or placed high in a couple of CCI**s, his first attempt at this level. Songline (by Summertime - Exclusiv), again with Michael Pollard, has done equally well at the Intermediate level and continues to stand for Chatsworth Stud at least until June of this year. Tatendrang *Pb* (by Onassis - Avignon) and Andrew Palmer won a CIC* in a large field, and former approved stallion Patras VR and Canadian Jessica Phoenix also had a strong season, winning at the CIC*** level. A large number of other Trakehners have had firm records in the money at the CIC*/** and *** as well as advanced level this spring, including Shame on the Moon (by Sonset's Sieger) with Emily Beshear, Sunsprite Syrius (by Titulus - Silent Fox xx) with Tamra Smith, Abbecca GS (by Hilton GS - Always Run Lucky xx) with Morgan McCue, Bentley's Best (by Hirtentanz - Eichendorff) with Jessica Phoenix, Tsetserleg (by Windfall *Pg* - Buddenbrock) with Michael Pollard, Jefferson (by Elazar - Enrico Caruso *Ps*) with Natalie Rooney, Abbey GS (by Heling - Märchenstein), also with Jessica Phoenix, and A Little Romance, another Phoenix mount (by A Fine Romance xx - Donaufürst *Pg*).
Sunsprite Syrius with Tamra Smith
Europe:
In France, German Team member Kai-Steffen Meier and his youngster Sunny Side First (by Fragonard xx - Tolstoi) placed 6th at the CCI* in Fontainebleau. Kai-Steffen also rode his top mount TSF Karascada M (by Heraldik xx - Anduc) to a middle-of-the-pack finish in this season opener.
In Switzerland, at the CIC* Frauenfeld, Esther Andres placed 3rd with Inster (by Maizauber - Anduc), followed by Eveline Bodenmüller with Unita MB CH (by Cavallieri xx - Saint Cloud, registered as a Swiss Warmblood!). 7th place was occupied by Patricia Attinger with the former Top Eventers auction horse Raumalpha (by Friedensfürst - Mont du Cantal AA), and 11th place wnt to Tamara Acklin, also with a Top Eventers auction horse, Light of Polaris (by Grand Prix - Bouquet AA). Notably, both Raumalpha as well as Light of Polaris were bred by Dr. Hubertus Schmidtlein at Gestüt Heidekaten in East Germany.
In Holland at the CIC**/* in Oudkarspel, Bettina Hoy placed 4th in the ** with the purebred Trakehner (but branded and registered Westfalian) Seigneur Medicott (by Seigneur d'Allery xx - Finley M). 9th place here was held by Dr. Martina Reemtsma with the part Trakehner Löwenstein (by Latimer). In the CIC*, Christoph Wahler placed the former NMS stallion candidate Sammy Deluce (by Key West - Ghazzir ShA) on 9th position. Placed 14 and 15 were also occupied by Trakehners: Traumfee (by Seigneur d'Allery xx abstammend - Telets), branded as a Bavarian warmblood, is a purebred Trakehner and was ridden by Heike Jahncke. And 15th was Carolin Thenhausen with Opia (by Sky Dancer - Kalif).
In Poland at the CIC** in Sopot, Swedish Erika Sjostrom placed 2nd aboard Hakuna Matata (by Cavallieri xx - Tarino).
Back in Germany, the season opener in Luhmühlen (CIC**) again saw Bettina Hoy with her "Westfalian" Trakehner Seigneur Medicott (by Seigneur d'Allery xx - Finley M) in the top of the field (4th place). More early season starters included the Bad Segeberg Open Prelim, which saw the top talent Maybach (by Zigeunerheld xx - Pret a Porter) with Louise Svennson-Jähde/SWE on 5th position. The Open Prelim event in Süsel also had a number of Trakehners doing well. Alexandra Werner and her mare Kaitika M (by Waitaki - Machandel) won one division. Third place went too Maja Kozian-Fleck with Saviola (by Grafenstolz TSF - Abdullah *Pg*). In the young rider division, Georg von Schiller placed 5th with Delektra (by Domhardt - Exorbitant xx).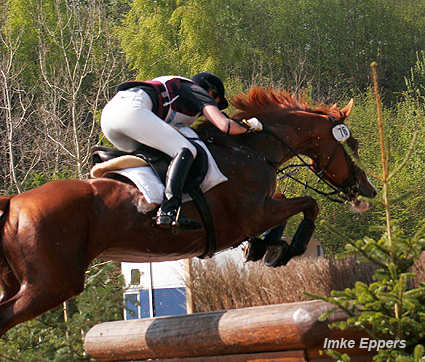 Kaitika M with Alexandra Werner
At the CIC* Radolfzell, former approved stallion Glenn Grant (by Buddenbrock - Consul) and Swiss rider Teresa Stokar placed 5th, followed by 7th placed Poupee de Cire (by Amelio - Ibikus) with Charlotte Whittaker. Eveline Bindemüller and her Unita MB CH (by Cavallieri xx - Saint Cloud, registered as a Swiss Warmblood) placed 3rd in the CIC**. In the same division, Patricia Attinger and Raumalpha (by Friedensfürst - Mont du Cantal AA) placed 18th.
An early seson highlight was the big Kreuth International Horse Trials in Bavaria. The CIC* had 53 entries, 18 were placed, and no less than 6 of those were Trakehners! 2nd place was won by Cappuccino TSF (by I-Punkt - Memelruf) with Leonie Leuwer, right before 3rd placed Poupee de Cire (by Amelio - Ibikus) with Charlotte Whittaker. 6th place was awarded to First Flight's Beauty (by Finley M - Almox Prints J), another horse from the Schmidtlein eventing program, with Hella Meise. 12th place went to Gil Galan (by Connery - Inster Graditz) with Sandy Scheibe, followed by 17th placed Kai Ruggaber with his Ferrari (by Saint Cloud - Consul), and 18th placed Goleo (by Heops - Aspirant) with Dominik Nüßner.
Dressage:
Stiletto, the ATA's approved Martini - Abdullah son, is now proudly called Stiletto *Pg*, based on his recent wins at Grand Prix dressage in Orlandlo. Congratulations to Valhalla Farm and Jean Brinkman!
At the CDI*** in Nice/FRA, Bernadette Brune and the former NMS Champion stallion (now gelding) Grand Passion (by Oliver Twist - Polarion) placed 3rd in their very first Inter I class. They also took home a 5th place in the PSG for 7-9yr old horses. In the Inter II and freestyle, British rider Beverley Brightman rode the former NMS approved Gutsherr II (by Oxford - Ordensglanz) to a 3rd and 4th place finish. Russian rider Inessa Merkulova placed 2nd in the Grand Prix with her 10yr old Mister X (by Egeus - Derbi). The pair then won the GP freestyle.
At the Beaufort-Centre Equestre International in Luxembourg, Terhi Stegars won the Grand Prix with her Axis TSF (by Sixtus - Angard). Woltair TSF (by King Arthur TSF - Polarpunkt) and Diane Erpeling placed 3rd in the same class. Terhi also won the Prix St Georg, this time with Lord Luciano (by Enrico Caruso - Unkenruf). In the young dressage horse class at M level, Pascale Sax placed the 6yr old gelding Rotten Row (by Hockey - Peron Junior) on 4th position.
Axis TSF with Terhi Stegars from 2012
In Germany at the big Nospa Classics show in Behrendorf, a number of Trakehners did well. Karin Lührs placed 5th in the S class with her longtime partner and former NMS stallion candidate Sergeant Pepper TSF (by Exklusiv - Enrico Caruso). 6th place in the same class went to Vera Breidenbach-Laffrenzen and the 12yr old gelding Titan (by Biotop - Sir Shostakovich xx). 9th place went to the former NMS champion stallion Le Rouge (by Pret a Porter - Tycoon) with Paula de Boer. And 11th place, same class, was won by Florentine (by Solero - Giorgio Armani), a full sister of the approved Freischütz, with Ulrike Hatzl. The latter also placed 4th in the young dressage horse class at M** level. Also placed in this young horse class was the approved Shapiro (by In Petto - Biotop) with Markus Waterhues. The Inter I class then again saw Sergeant Pepper TSF with Karin Lührs in the money, 6th placed, and since that is not enough, the gelding also took home a 4th place in the Inter I freestyle. In that class, Vera Breidenbach-Laffrenzen and Titan placed 8th. Considering that the S level class had 34 entries total, of which 4 were Trakehners, the fact that ALL of them actually placed in the money is quite significant.
In the South of the country, Lutz Weyland and his home-bred and trained Aragorn le Grande (by Solero - Anduc)mplaced 2nd in the Inter II and 4th in a short Grand Prix at the Walldorf Dressage Festival. Lutz already home-bred the dam of this horse, who in turn was a full sister to his longtime international Grand Prix partner Mon Acteur TSF. In the M** class, 8yr old Pennino by Elfengeist - Hohenstein and Annett Böhm placed 3rd.
Young talent Cote d'Azur TSF (by Cadeau - Patricius xx) and Helen Langehanenberg won their first Grand Prix! At the Ankum dressage show, she began her weekend with a 3rd placed in the Inter I (69.345%) and then proceeded to win the short Grand Prix for 8-10yr old horses with 68.876%.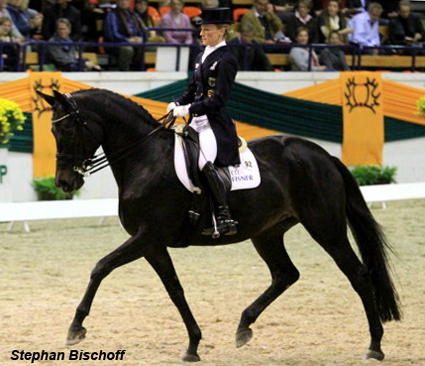 Cote d'Azur TSF with Helen Langehanenberg
And earlier during the season, at the CDI**** s'Hertogenbosch, a World Cup qualifier, Terhi Stegars and Axis TSF (by Sixtus - Angard) placed 12th in the Grand Prix and 8th in the freestyle - in a true world class field of competitors.
Other Trakehner World Cup horses include the two Russian Trakehners Mister X (by Egeus - Derbi) and Romeo Star (by Khlorat - Kheld). Both placed in the top ten at the World Cup events in Vidauban and Gothenburg, respectively.
Dressage is certainly the discipline with the most part-Trakehner horses competing internationally. The success of sires that enjoyed great popularity in Hanover and Oldenburg, KWPN and the Danish warmblood breeds, is rather impressive considering how small the Trakehner population is compared to these other stud books. Here is a wrap up of the part Trakehner horses doing well this Spring season in dressage:
At the CDI**** s'Hertogenbosch/NL, Danielle Heijkoop and her Gribaldi-son Kinglsey Siro placed 2nd in the GP DFreestyle). 6th place in the Grand Prix and 9th place in the freestyle went to Thriller (by Gribaldi) with Katja Gevers (NL). And the beautiful Oldenburg mare Noble Dream Concept Sol (by Caprimond) and French rider Marc Boblet placed 11th and 10th, respectively, followed by Ulysses la Haya (by Gribaldi) with Dutch rider Laurens van Lieren (NL) on places 13 and 12, respectively.
A significant win came at the same show from Germany's Isabell Werth. She is back in the saddle of a part-Trakehner, the Hanoverian mare Harmonie (by Hohenstein), who was at her first international show. Two starts - two wins! With 71.5 % in the Grand Prix, and 76.125 % iin the freestyle, the elegant black mare took home major victories. Second place in both classes went to German Nadine Capellmann and her Württemberg mare Girasol (by Gribaldi). And 3rd place was also a part-Trakehner place, now one generation removed: Swiss Marcel Krinke Susmelj rode Smeyers Molberg by Michellino, a son of the Trakehner Michelangelo.
At the CDI5* in Vidauban/FRA, German Team rider Ulla Salzgeber and Herzruf's Erbe (by Herzruf) placed 3rd in both the Grand Prix and the freestyle. Two other part Trakehners placed in these big international classes: Laurens van Lieren (NL) and Ulysses la Haya (by Gribaldi) and Francoise Hologne-Joux (FRA) with Wodan (also by Gribaldi).
Noble Dream by Caprimond with Marc Boblet
Show Jumping:
Ironically, it is a Trakehner that produced the first S level win for Ingrid Klimke: After winning the M** class, Parmenides (by Sir Chamberlain - Habicht) also won a S class with jump-off at the big Greven Show in Westfalia.
And Michael Jung, equally at home in all saddles, started his jumper season aboard the approved Der Dürer TSF (by Waitaki - Trafaret). They placed 2nd in the S* class at Sauldorf in South Germany. Interestingly, Michael also introduced a new jumper star in his barn, the 7yr old Trakehner mare Daressalam, who placed 2nd in a two-phase M** class and also took home one win in such a class. Daressalam is a daughter of Der Dürer TSF, bred by the same stud farm that also produced Der Dürer TSF in the first place, Dr. Mechtild Bause's Inselhof Stud. What an accomplishment! Her dam is Delphie by Hohenstein - Saint Cloud, a very close maternal relative to Der Dürer TSF, and herself dam of the multiple CIC* champion Der Dante (approved).

02.13.2014 - Photo report from Münster-Handorf is online!
Check out the images and the movie of the newly approved Adorator from Münster-Handorf. Also, our photo report of the annual stallion show is now online! Please follow the link here: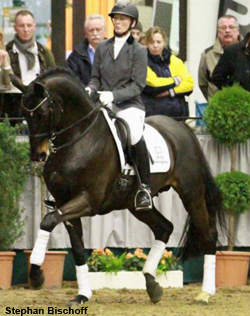 01.28.2014 - Stallion candidates for Münster-Handorf Spring Approvals
The (very small) catalog of stallion candidates for the upcoming Münster-Handorf Spring Approvals is online. Please follow this link to see detailed pedigrees of all candidates.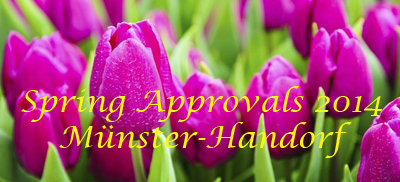 01.26.2014 - First big competition weekend: Eventing in the US, dressage in Europe
In the US, Trakehner came out to finish their winter break and begin eventing. On the East Coast at the Rocking Horse Winter I, HT, Micheal Pollard had an incredible run on two Trakehner stallions. Halimey (by Askar AA - Pardon Go) in his 2nd intermediate ever, again won, with a 24.4 dressage score and just 2 time faults added xc. The stallion took first place with almost 8 points over the seonc placed pair. No less impressive - Songline (by Summertime - Exclusiv), the former NMS Champion and Bundeschampion of the German Event Horse. He just last year came to North America but hadn't really been doing much until a new formed partnership between his owner Gus Schickedanz (CAN), Dr. Timothey Holekamp and Michael Pollard gave the stallion a new competition home. He rewarded the trust with a straight win on his dressage score of 25.9 points in Open Preliminary. More to come, we're sure. Michael Pollard then also won a 3rd place finish on Tsetserleg (by Windfall *Pg* - Buddenbrock), who also finished on his dressage score of 29.1 in another OP division. Tatendrang *Pb* (by Onassis - Avignon II) and Andrew Palmer also finished 3rd in their division in OP, on their dressage score of 28.2. More Trakehners were placed high in lower divisions at this show.
At the CDI-W Amsterdam (NL), the approved stallion Axis TSF (by Sixtus - Angard) and Terhi Stegars finished 16th (68.26%) in a big and very competitive field, and thus missed the qualification for the next round. However, Unee BB (Bavarian by Gribaldi/Trak.) and Jessica von Bredow-Werndl mixed up the field quite a bit. They are relatively new to the big screen and brought home 71.900% and a 9th place finish. One place ahead was French Marc Boblet with the Caprimond/Trak.-daughter Noble Dream with 71.940%. Both made it to the Freestyle, and reversed places: 7th (Boblet) and 6th (von Bredow-Werndl) were the final placings for these two part Trakehners.
At the CDN Münster, Germany, Cote d'Azur TSF (by Cadeau - Patricius xx) and Helen Langehanenberg were 8th in the short Grand Prix with 67.279% (np). This was the mare's first start at Grand Prix level. In the Grand Prix, Girasol (by Gribaldi/Trak.), a branded Baden-Wuerttemberg mare and Nadine Capellmann placed 3rd with 70.44%. Qualified for the Freestyle, the pair then moved up one spot for a 2nd place fininsh with a core of 75.255%.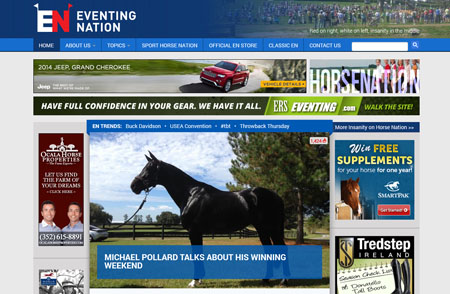 Eventingnation's title hero after Rocking Horse I: Songline